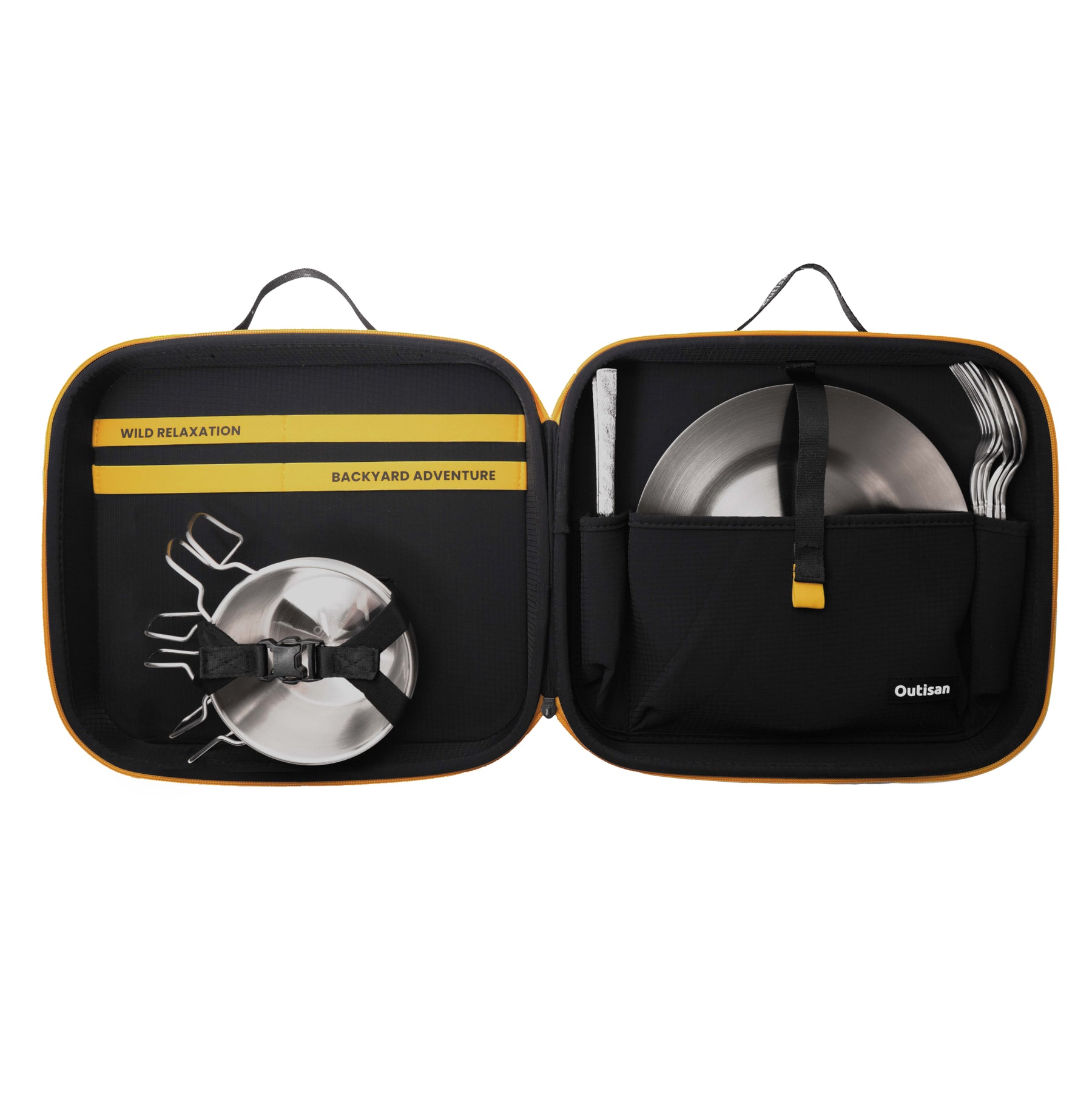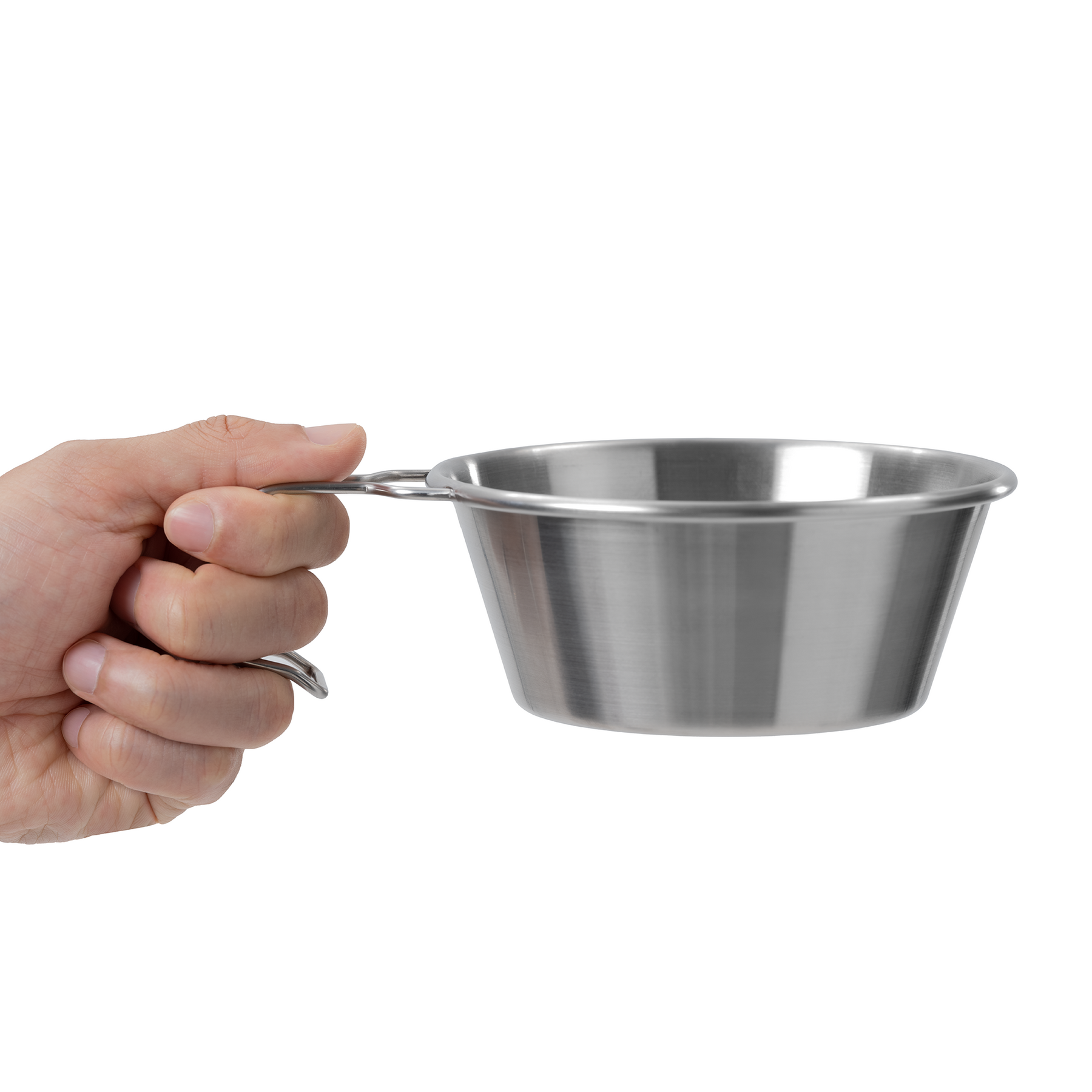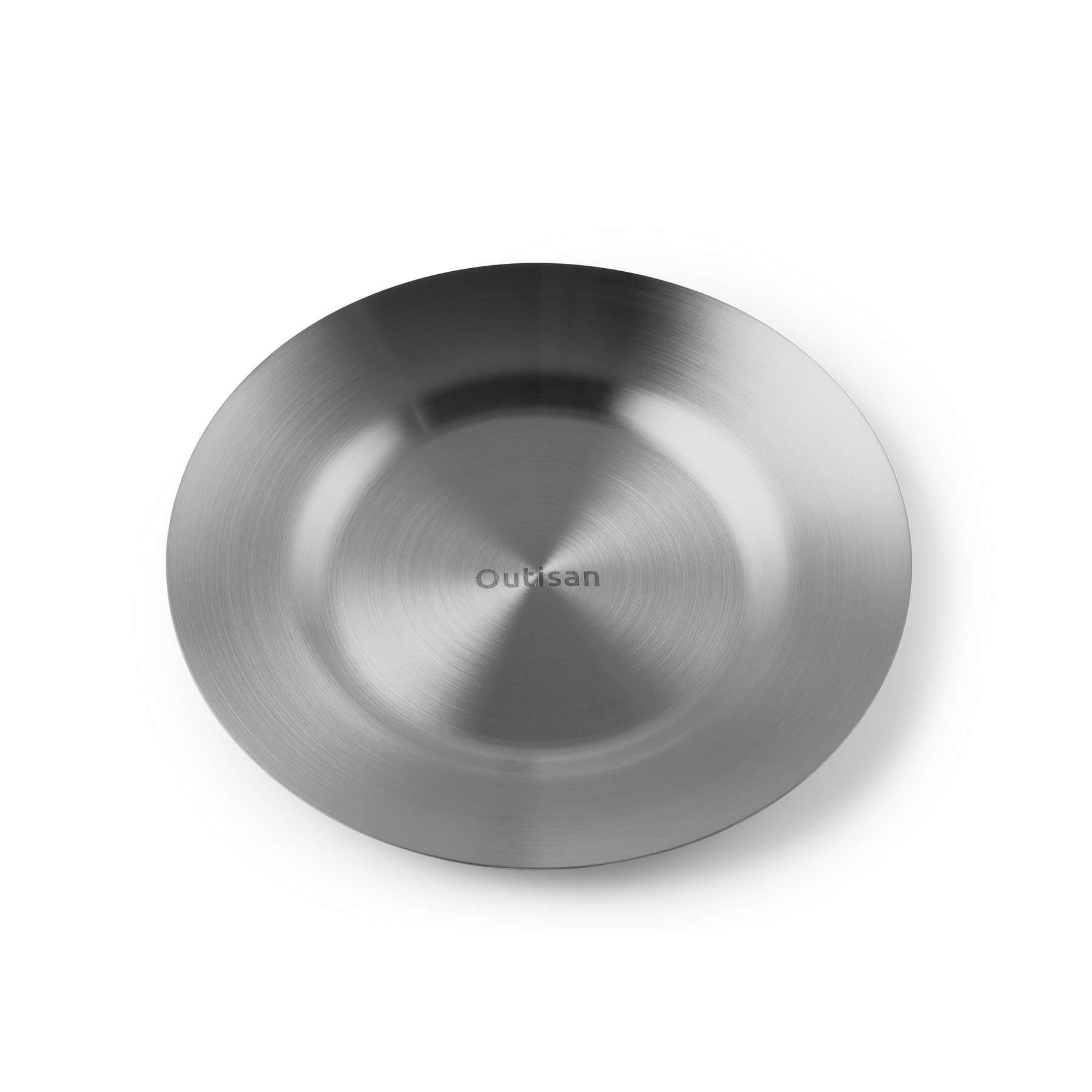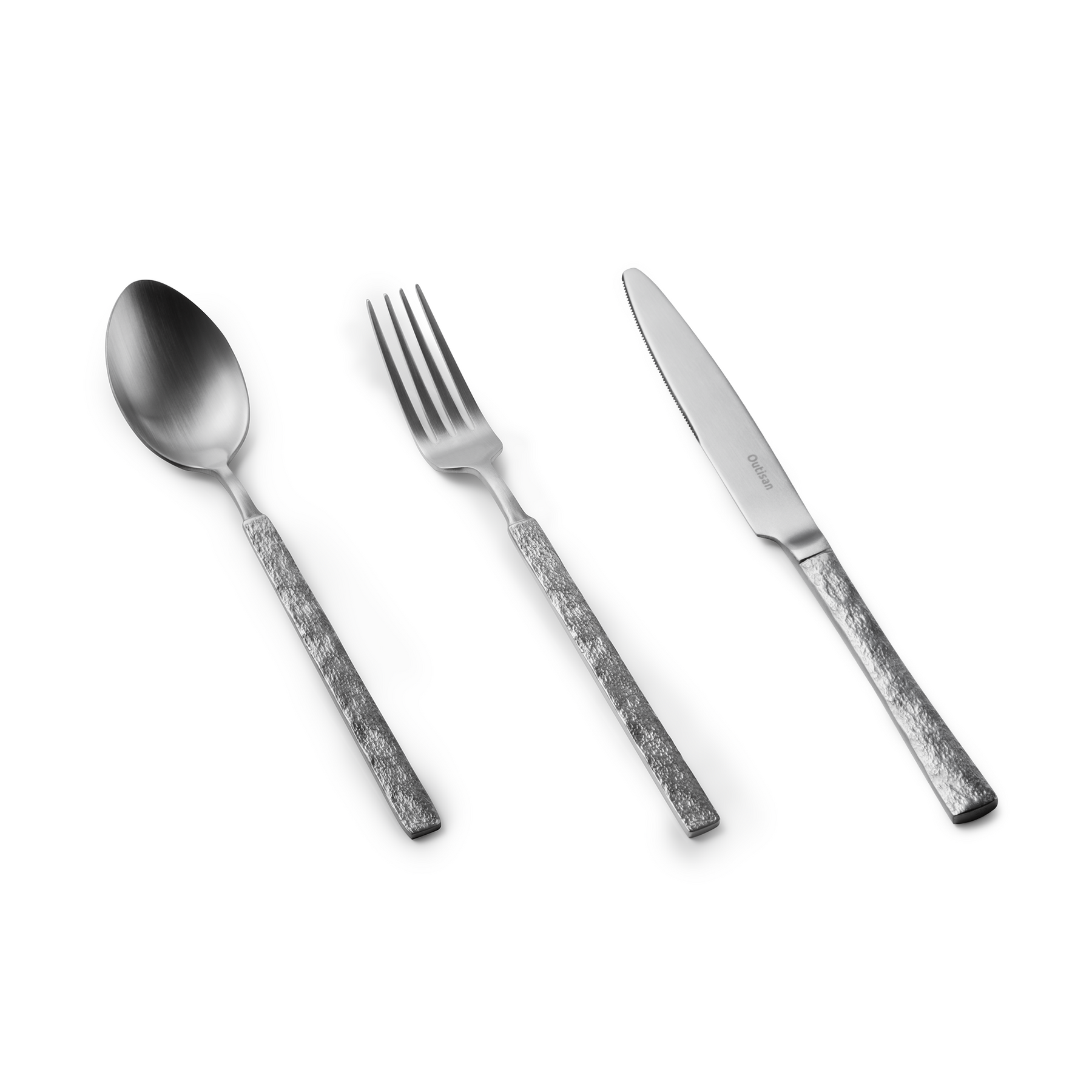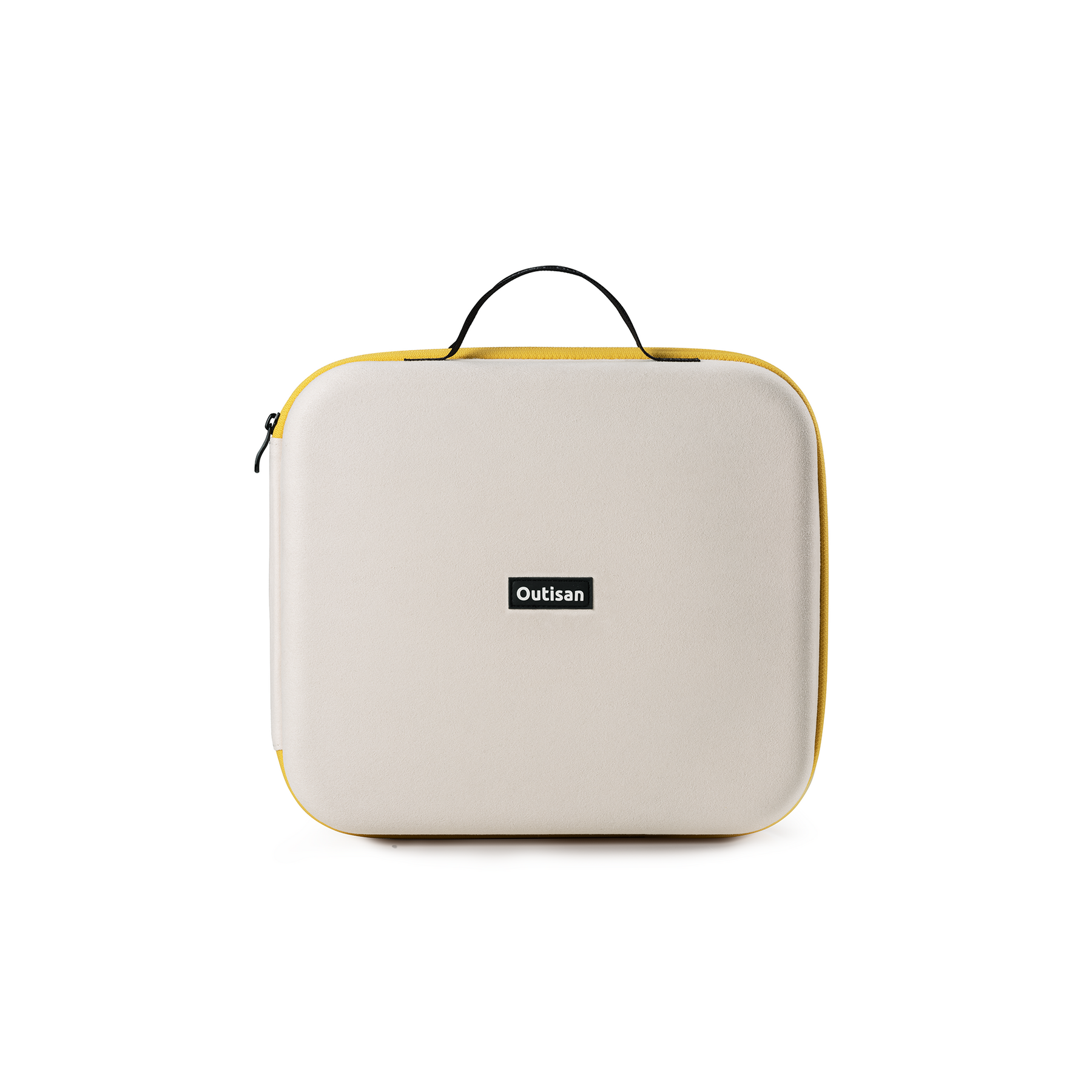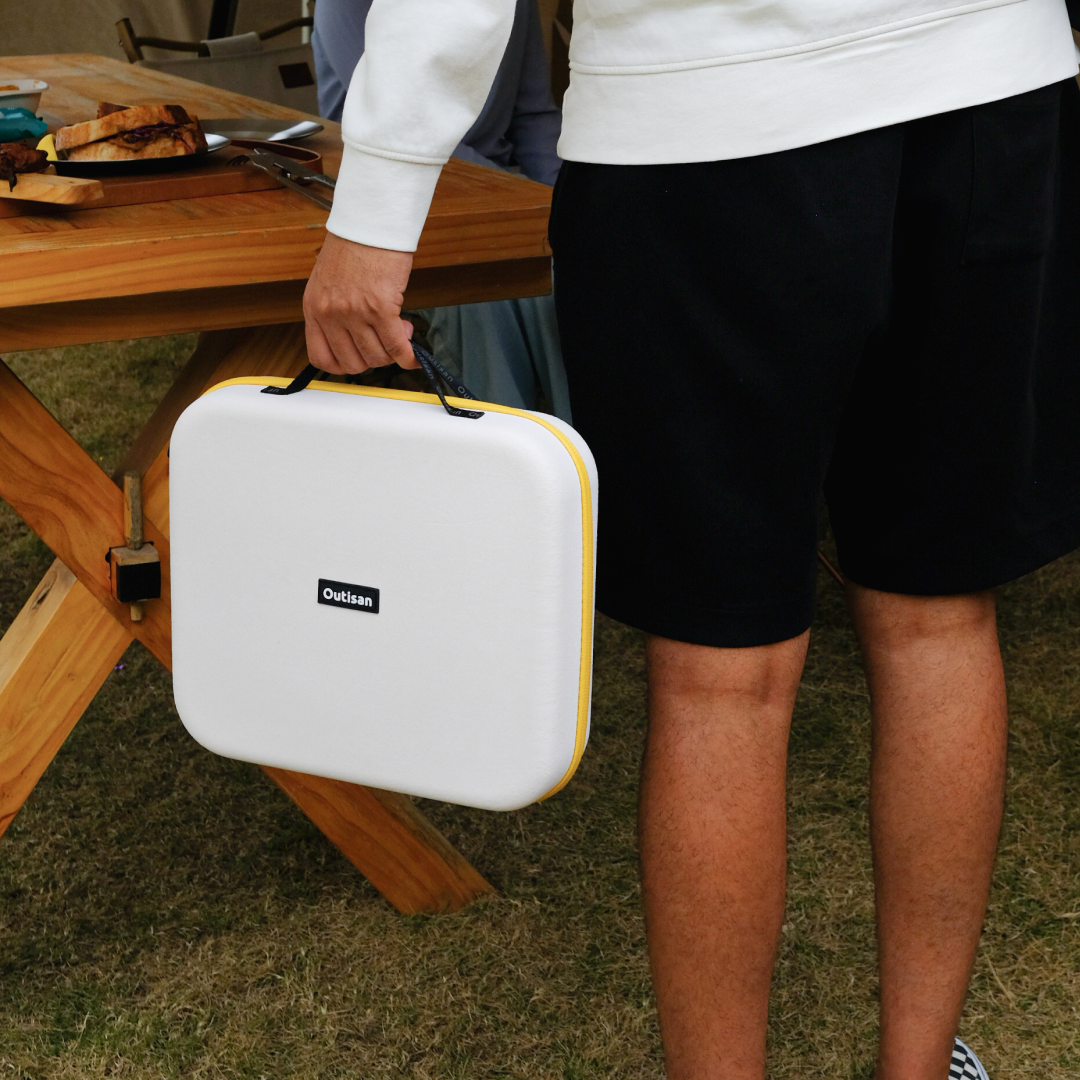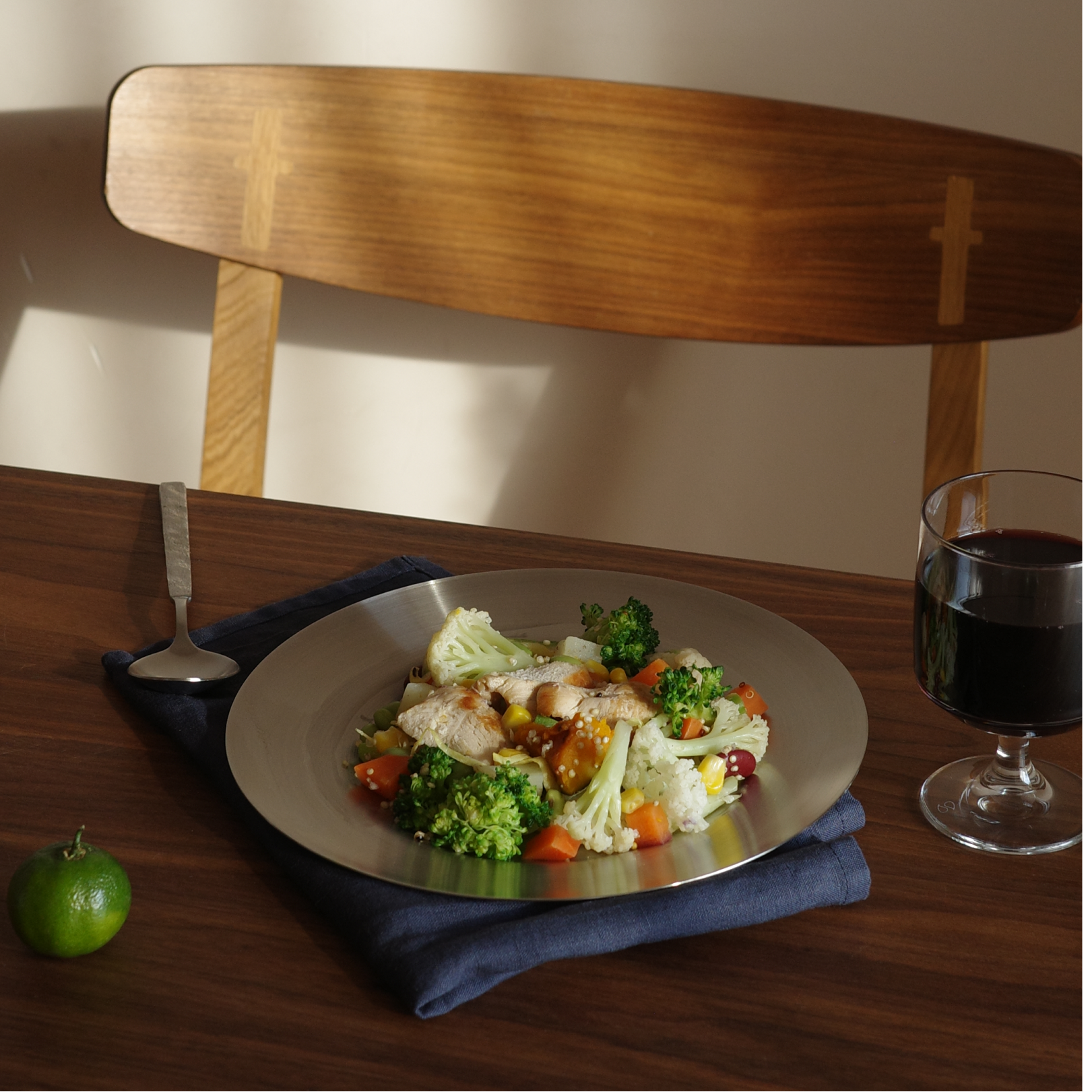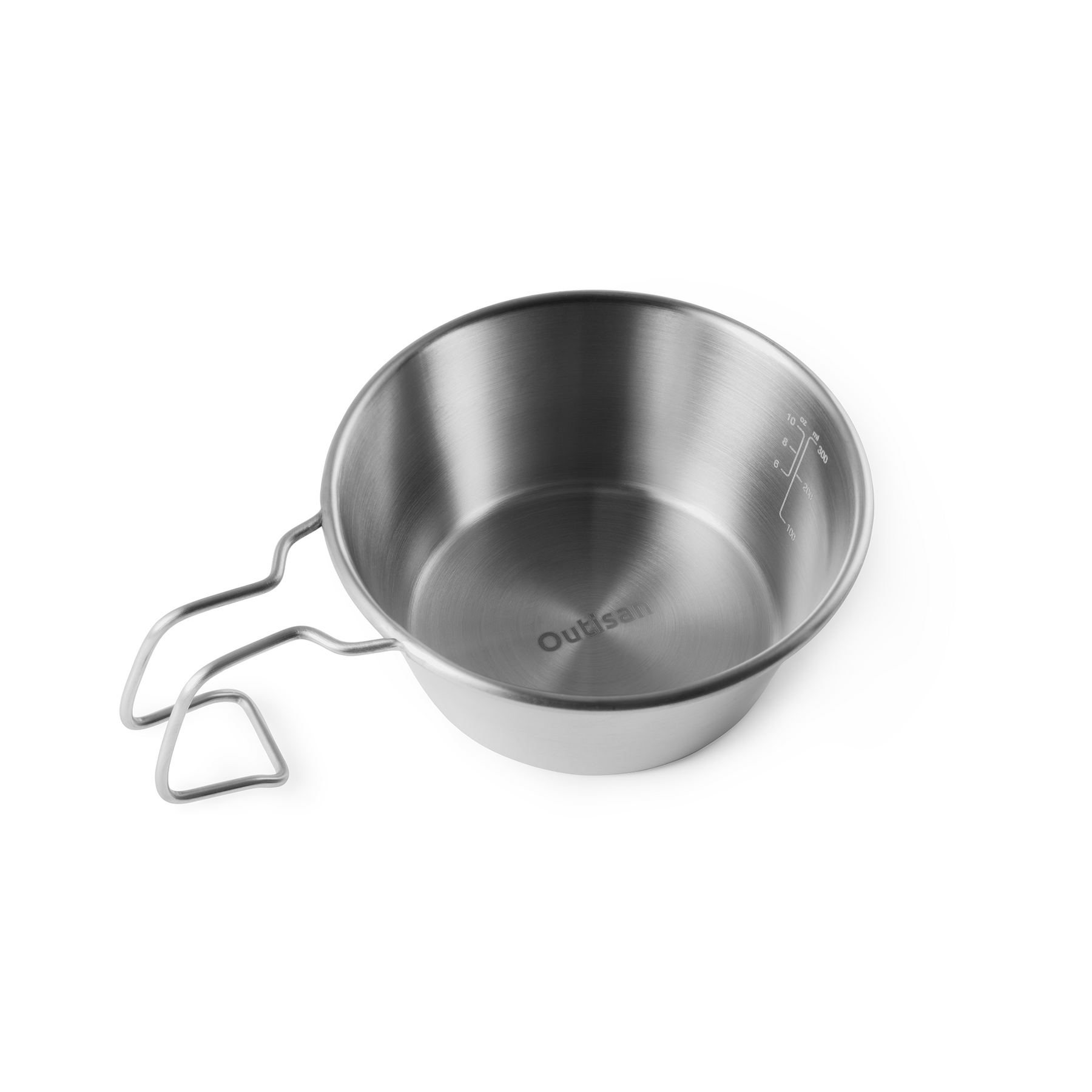 All-in-one Cutlery Set
Highlights
Serve up a new plate of adventure with the Outisan Cutlery Set. Designed for rustling up a meal at home or on the go, our three-person assortment of stainless steel plates, sierra cups, and silverware comes beautifully packed in a water-resistant, vegan-leather carrying case.
Features
3 sets of utensils, plates & Sierra cups.
Waterproof carrying case.
Dishwasher safe & machine washable.
Multi-use Sierra cups.
Built to take anywhere.
Premium stainless steel for maximum durability.
Extra large Sierra Cup with ergonomic handle.
Specs
Spoon / Fork / Plate / Sierra Cup: stainless steel 18/8
Knife: stainless steel SUS 420
Storage Case: 59% polyester / 20.5% nylon / 20.5% polyurethane
Weight: 5 lbs
Length: Knife 9.2" / Fork 8.1" / Spoon 8.1"
Diameter: Plate 8.7"
Capacity: Sierra Cup 13.5oz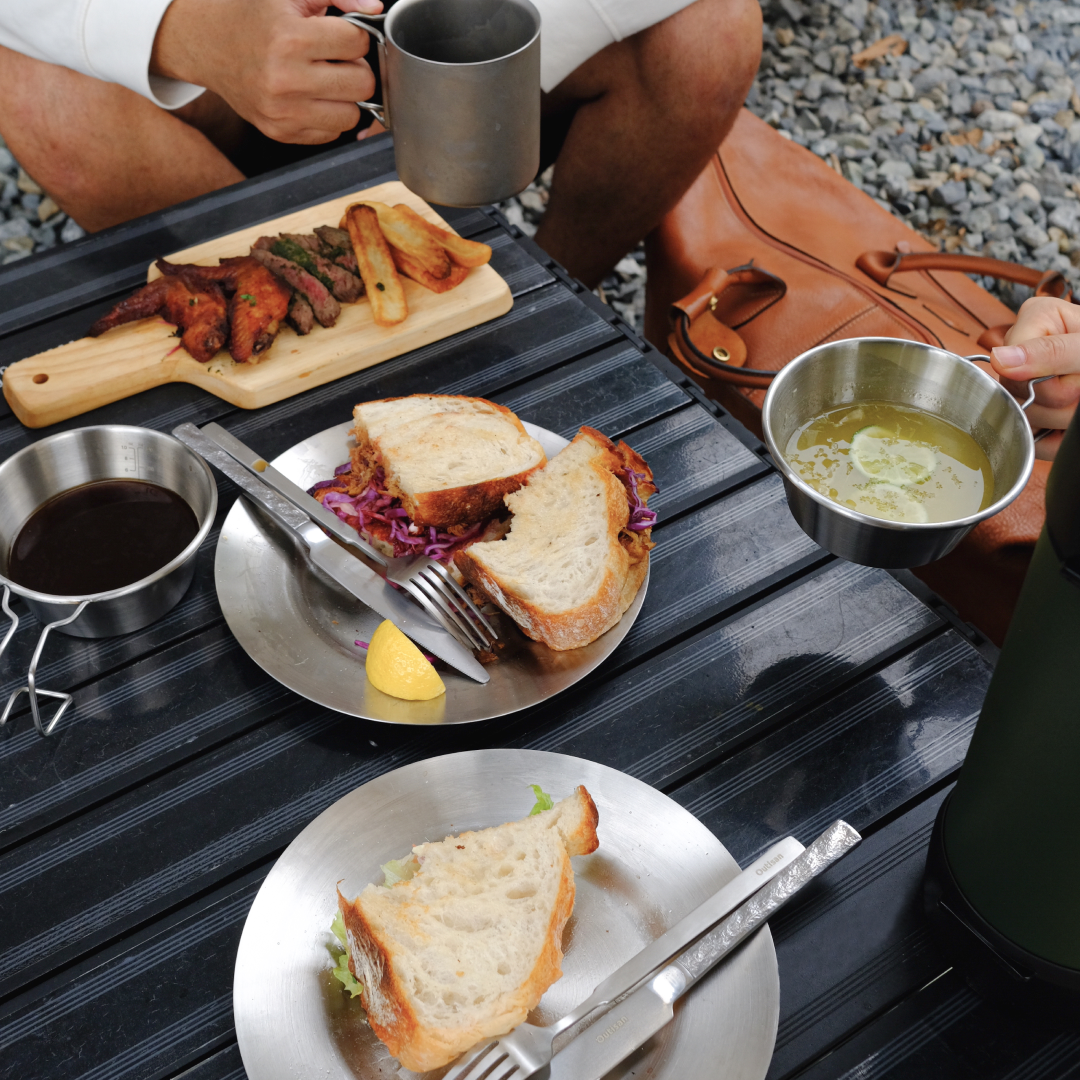 All-in-One Outdoor Dining Set
For the love of food.
No more rummaging through cupboards or last-minute runs to the grocery store for plastic cutlery. The Outisan Cutlery Set has 3 sets of everything you need to dine outdoors, in one compact carrying case.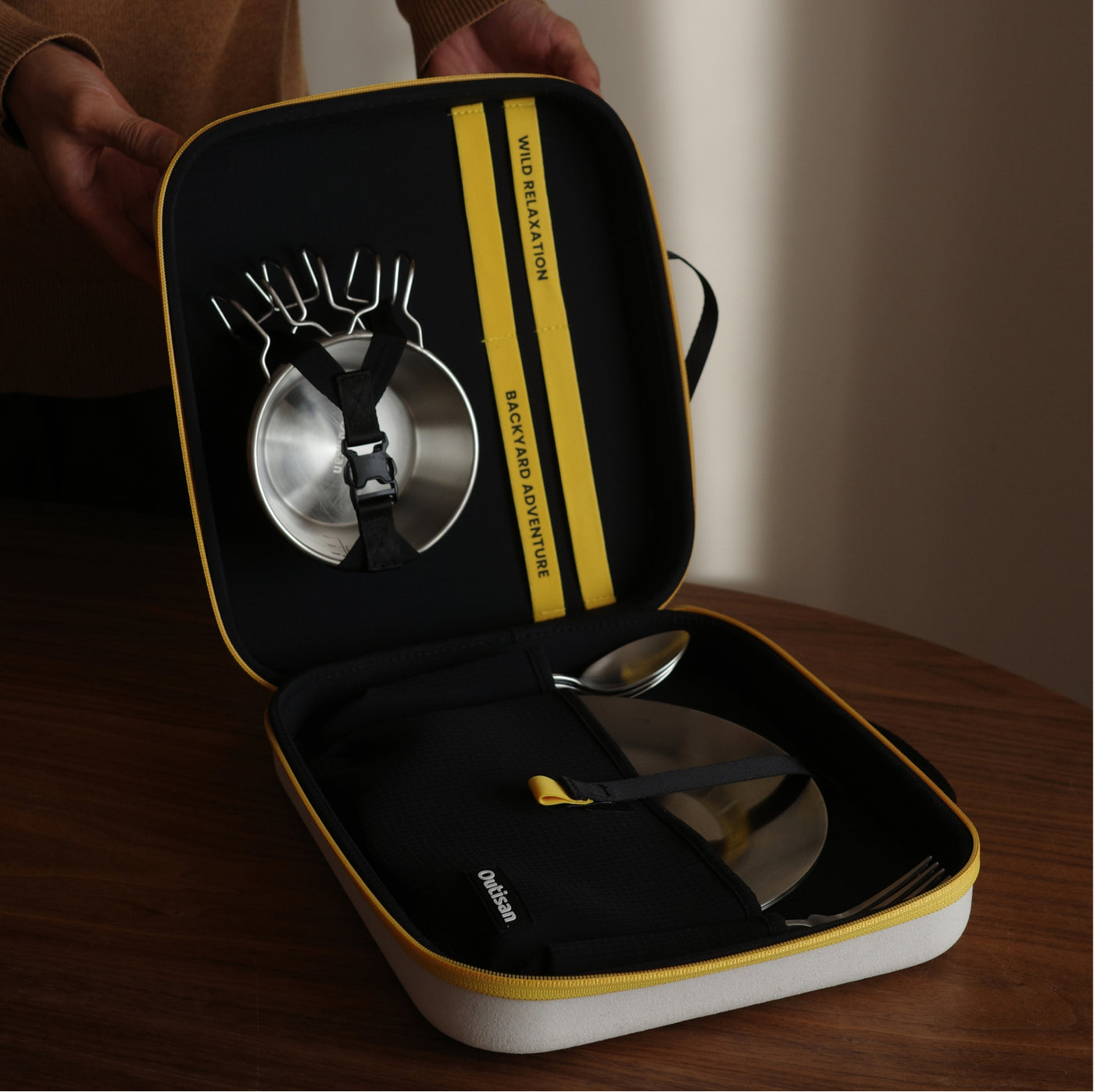 Packed & Ready 2 Go
Mealtime mobility.
The compact splash-proof carrying case keeps all your dining utensils organized and protected in one place. No planning, no thinking, just grab it and go wherever your next meal waits.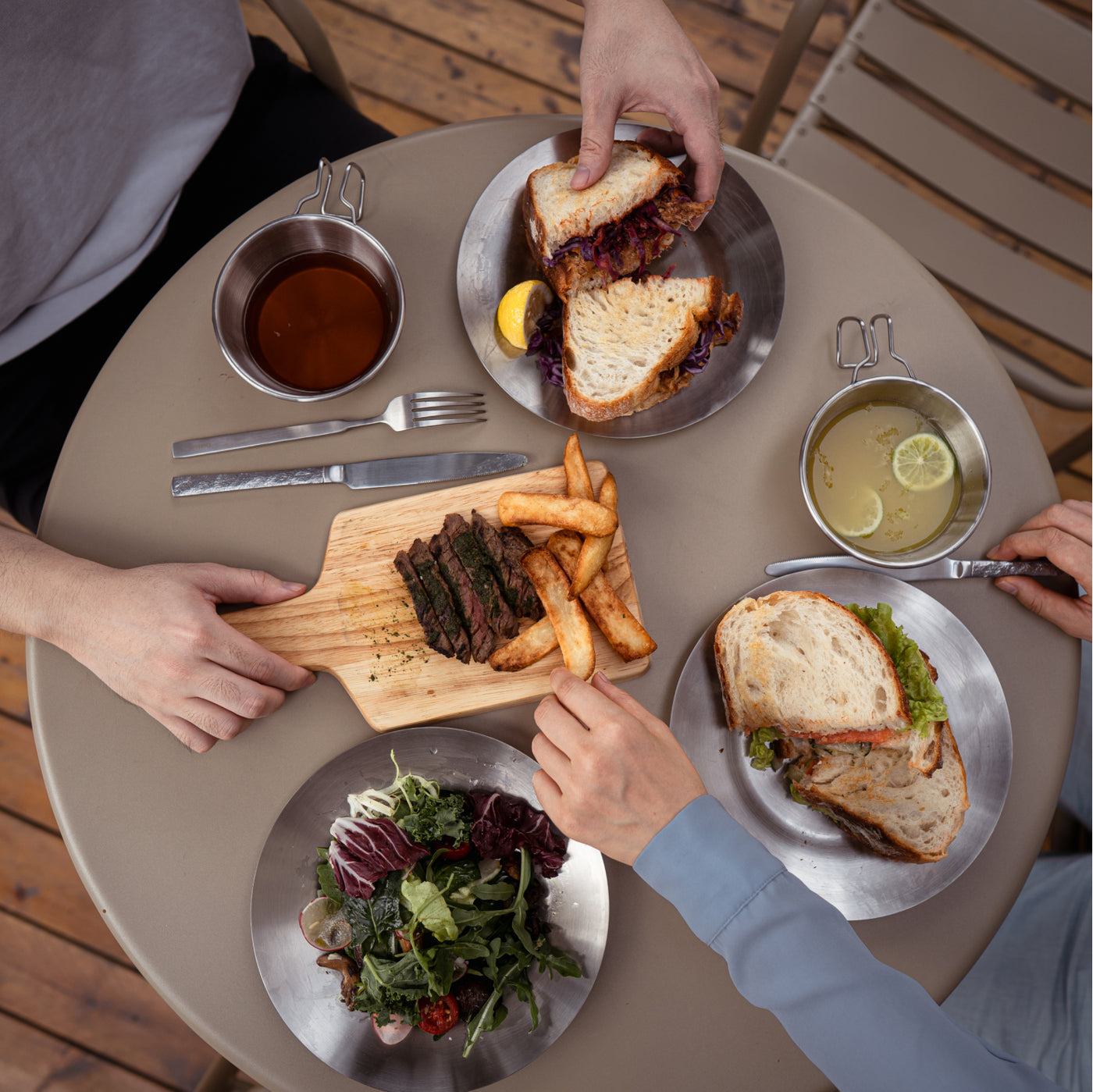 premium quality
Every bite counts.
Crafted with quality always in mind, using a two-step process that molds high-quality SUS 304 & 420 stainless steel into long-lasting and FDA-approved cutlery, allowing you to ditch the plastic for good. The same quality also extends to the plates and Sierra cups, which can withstand the heat of an open flame or oven — making them ideal for outdoor cooking and dining.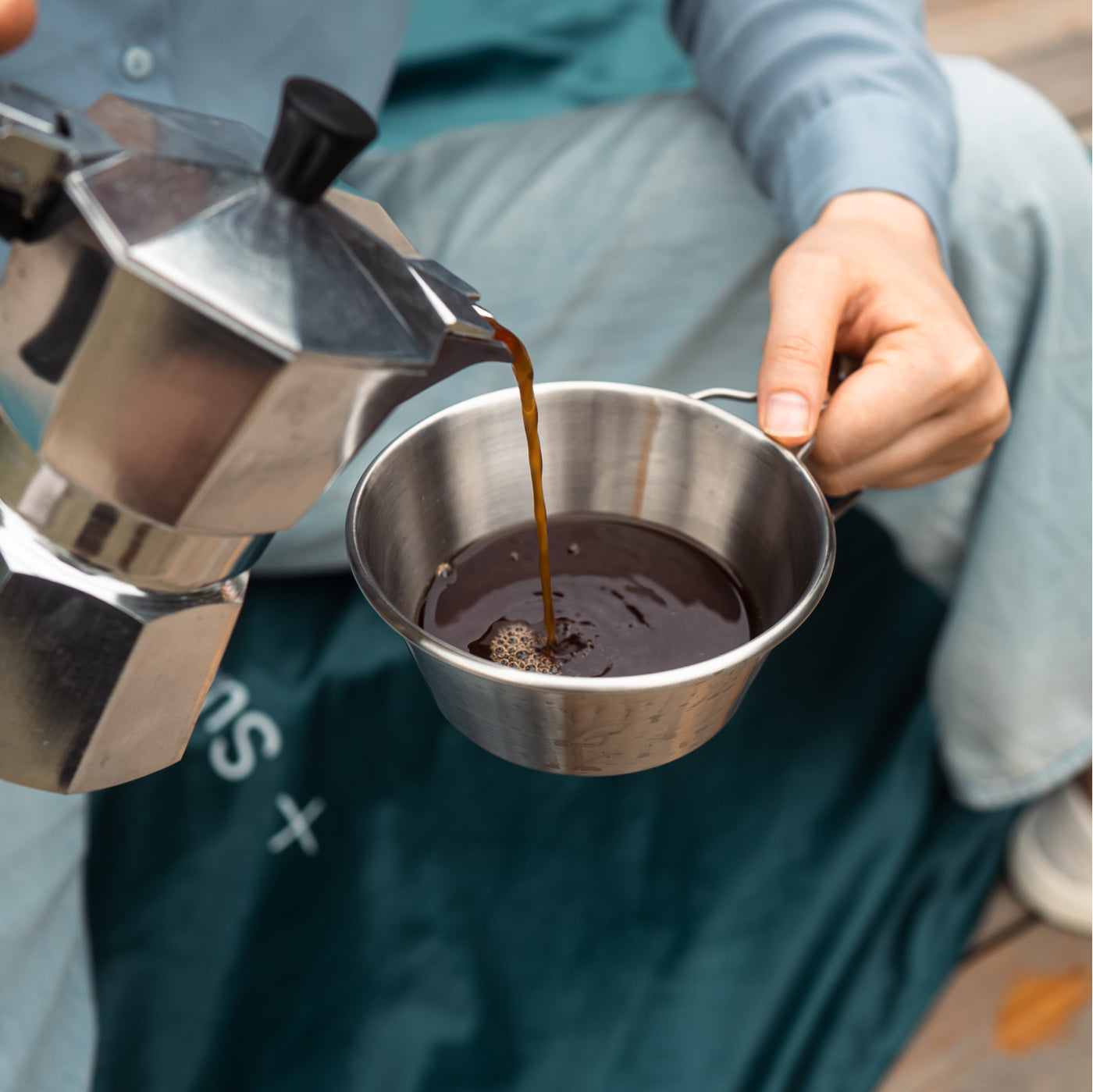 No Limits Dining
Backyards to bonfires.
Our durable all-in-one Cutlery Set makes it all possible, ensuring you can indulge in delicious meals anywhere, anytime. With the multi-use Sierra cups, you can enjoy limitless outdoor dining possibilities - sip on a refreshing drink, savor a hot bowl of soup, or even use it as an extra plate when you're out & about.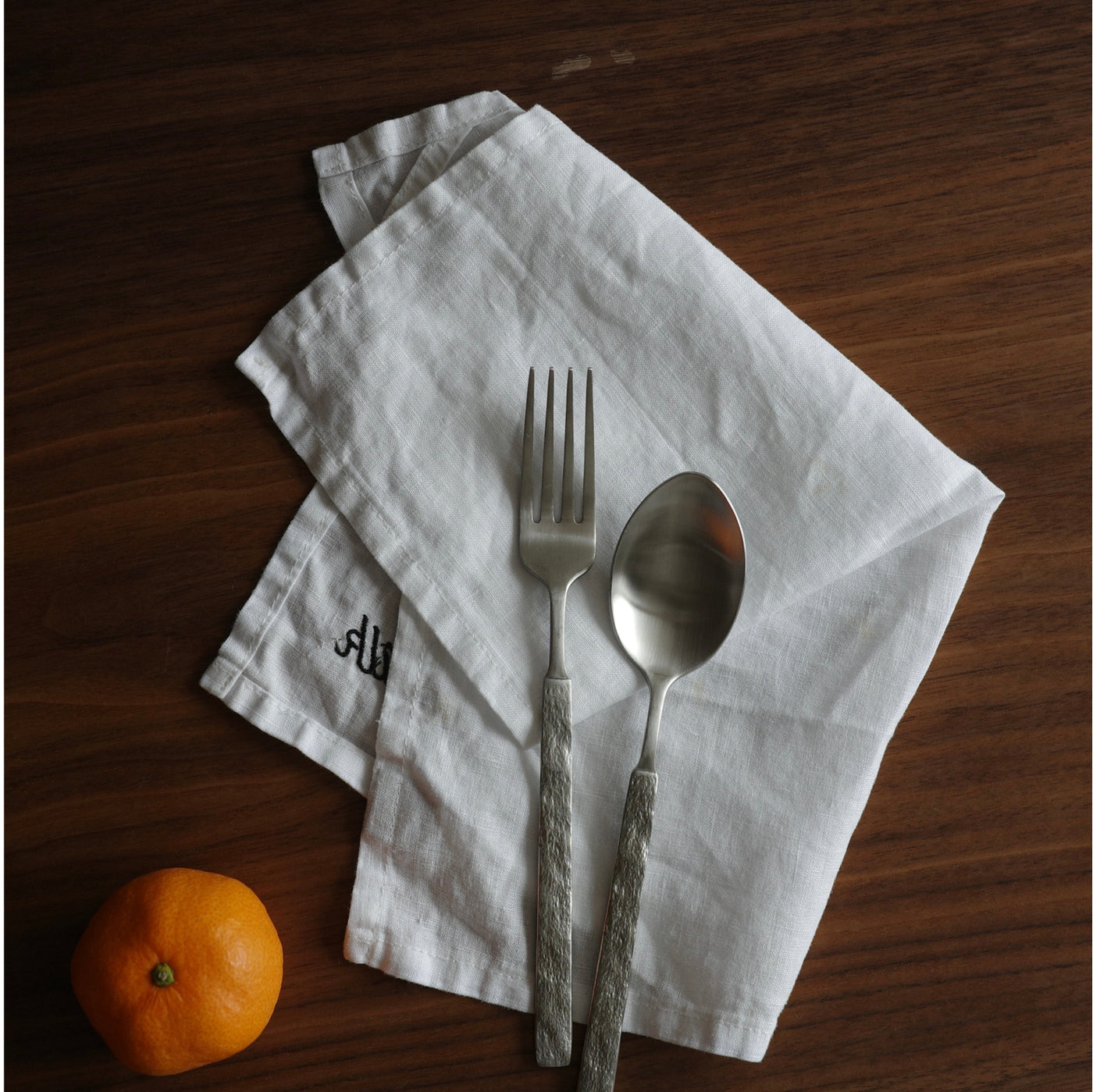 Artisanal Details
Precision in every piece.
Featuring food-grade stainless steel with a unique hammered finish & ultra-smooth hand-sanded edges for a look that complements any setting. The time-tested design of the Sierra cups gets an upgrade with sturdier, more comfortable handles, and everything packs neatly away in a case that looks great while you're on the move.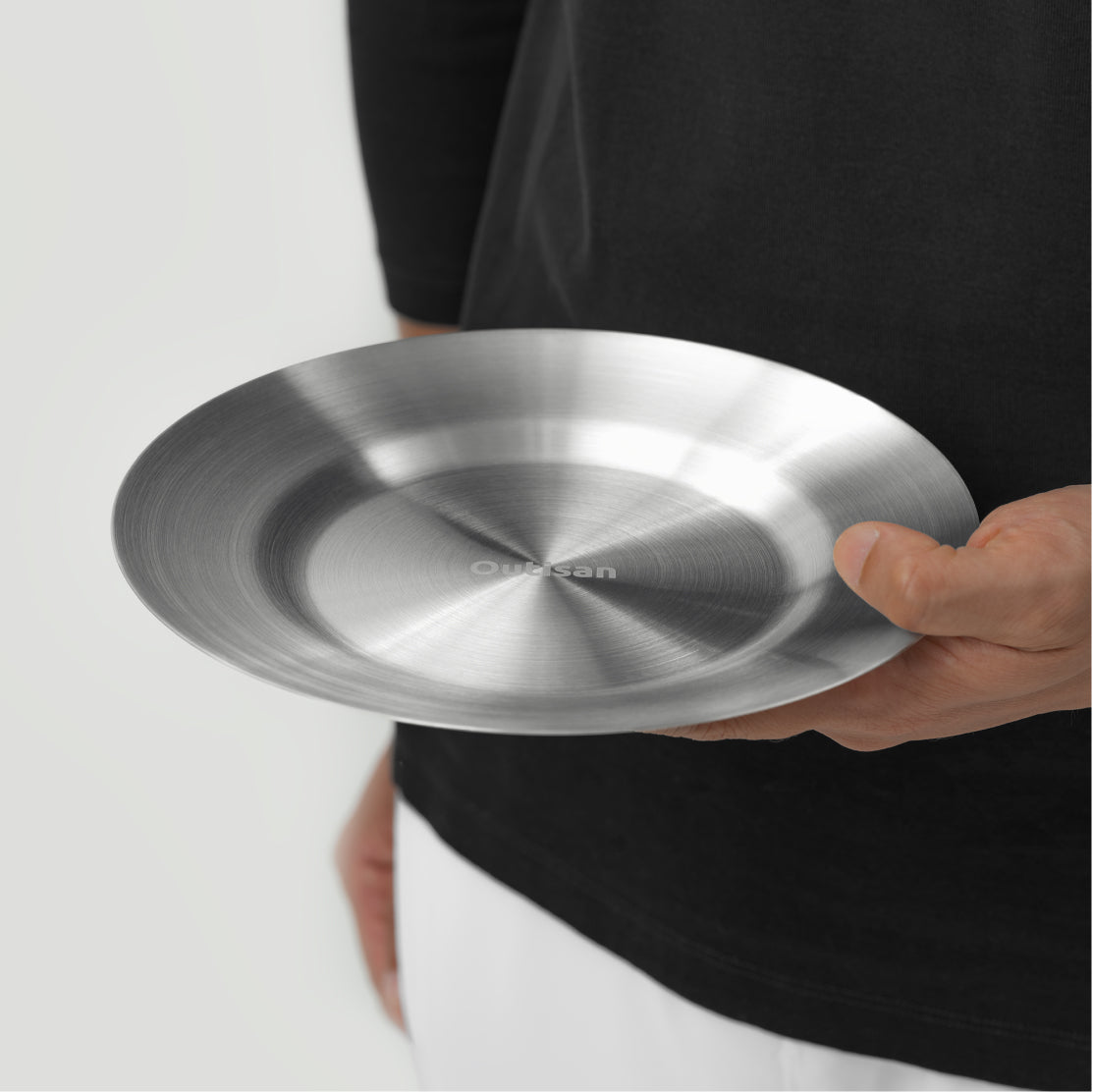 Dishwasher Safe
Rinse & repeat.
Quick cleanup once you've taken that last bite — pack up, take it home, and toss everything in the dishwasher for easy cleaning. When it's all done, simply place everything back in the case, and you're ready for next time.
This is a high quality, sturdy set!
This is a beautiful set of cutlery and dinnerware for camping. Everything is pretty heavy and a quality stainless steel. I was shocked at how big the utensils are. I'm not used to that with camping! I think this might be a little better for car camping than backpacking as they are bigger and heavier than I'm used to when hiking in somewhere. It's beautifully packaged and would make an excellent gift for someone. I was also surprised to get a set for 3. Usually things come in sets for 2 or 4. But I guess it's always nice to have an extra set, just in case. I love this and am really happy I have this for my next adventure!
Impressive set
I was actually surprised, and very impressed with the quality of this set. My only little ding against it is that it comes in a 3 piece set - I feel 4 is the standard. I can't fault the company for that because it clearly states 3 pieces.
On to the positives:
Very well constructed. This is a quality item. It is heavier than expected and is not cheap or lightweight in any way whatsoever.
The packaging is very well thought out. Each and every piece is individually wrapped in plastic, and the cutlery is bundled together with velco in sets of 3 - knives, forks, and spoons. Again, each knife, spoon, and fork is individually wrapped. Each item (or bundle) is individually compartmentalized in the box. Very nice and demonstrates the quality from start to finish.
Plates are the size of a large saucer or small dinner plate - just about right for camping. The bowl/possible cup thing is a little small for a bowl of cereal but kind of big for a coffee mug but it also double as a measuring cup since it has markings etched on the inside.
I love this set. I thought it had the possibility of feeling cheap but it is not like that at all. If you are on the fence with purchasing this, I don't think you'll be disappointed.
Good for both indoor and outdoor usage
It comes with 3 sets of cups, plates, and utensils. The 15 piece set is of very good quality and since its stainless steel, it's quite easy to clean, even outdoors. The designs on the utensils are nice, but the plate and cups are somewhat basic. Honestly usable both indoors and outdoors. I just wish it came with a case to hold them in.
High quality set
Perfect for camping but also great for inside the home. I love that these are dishwasher safe. Rugged and yet still stylish. Shine up very nicely. Comfortable to grip. A lovely set and won't scratch up easily. Perfect gift set, especially for camping adventure lovers.
Everything you need
Outisan has thought of everything in the case. From the handles to the bonus storage pouch, it's clear that they prioritized functionality and user experience.