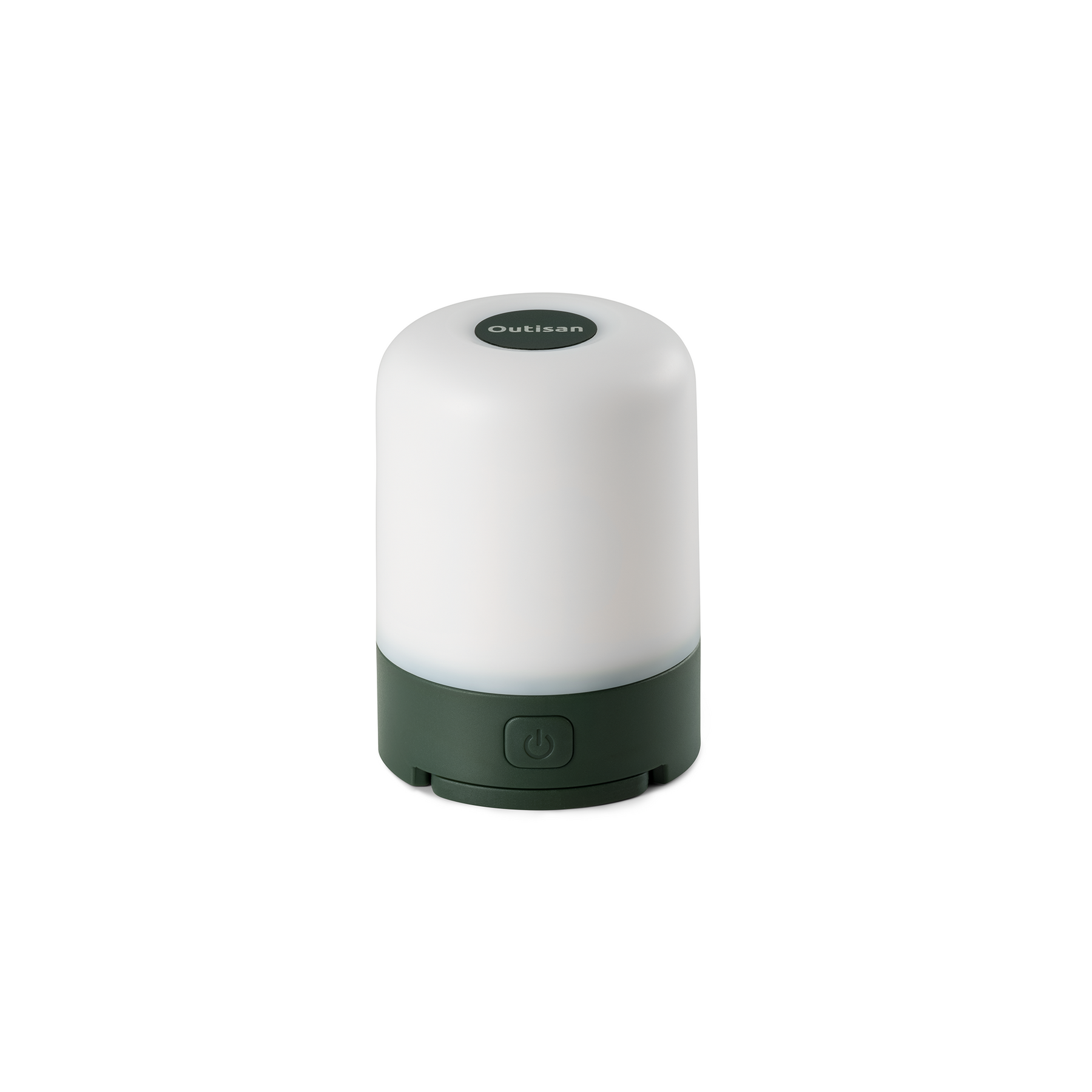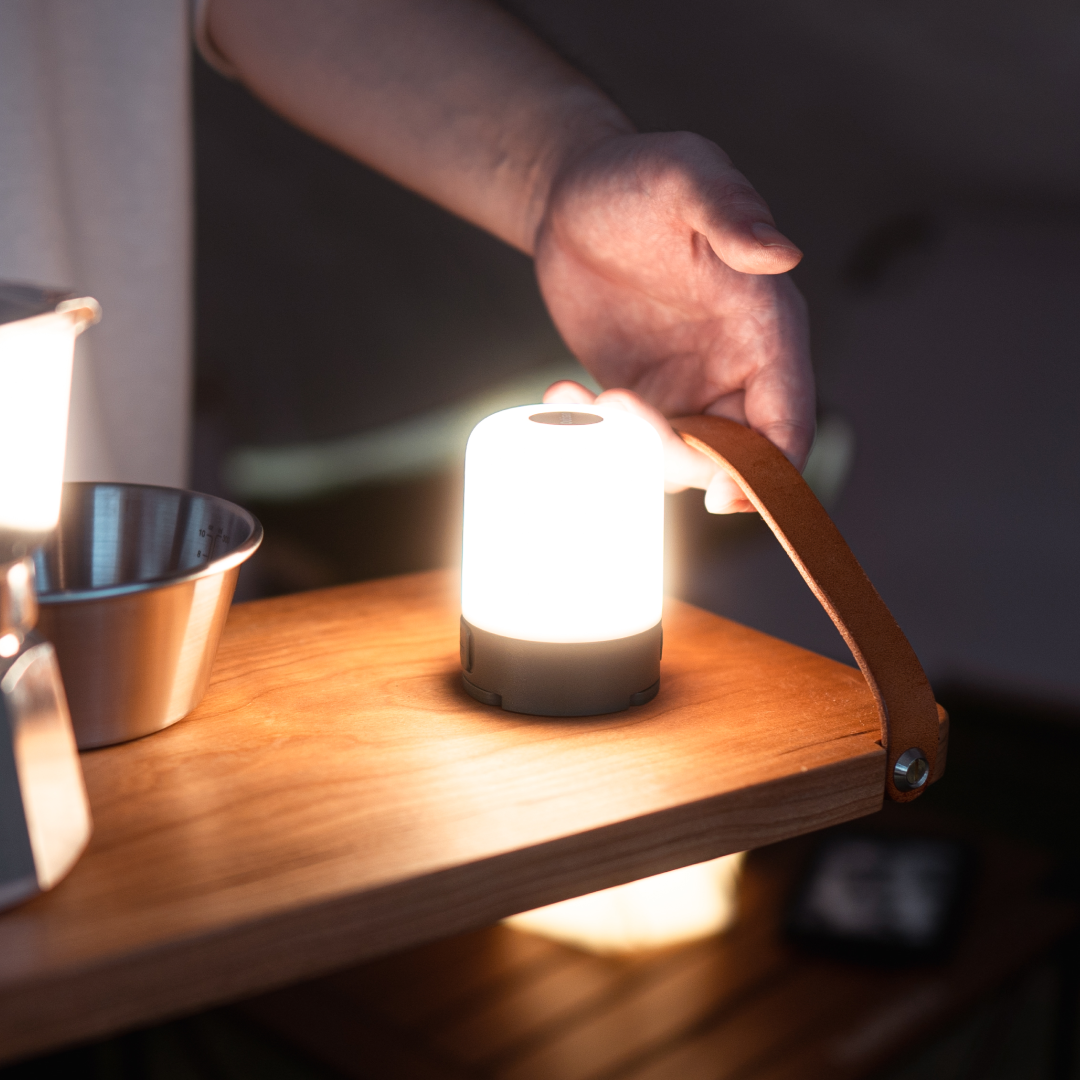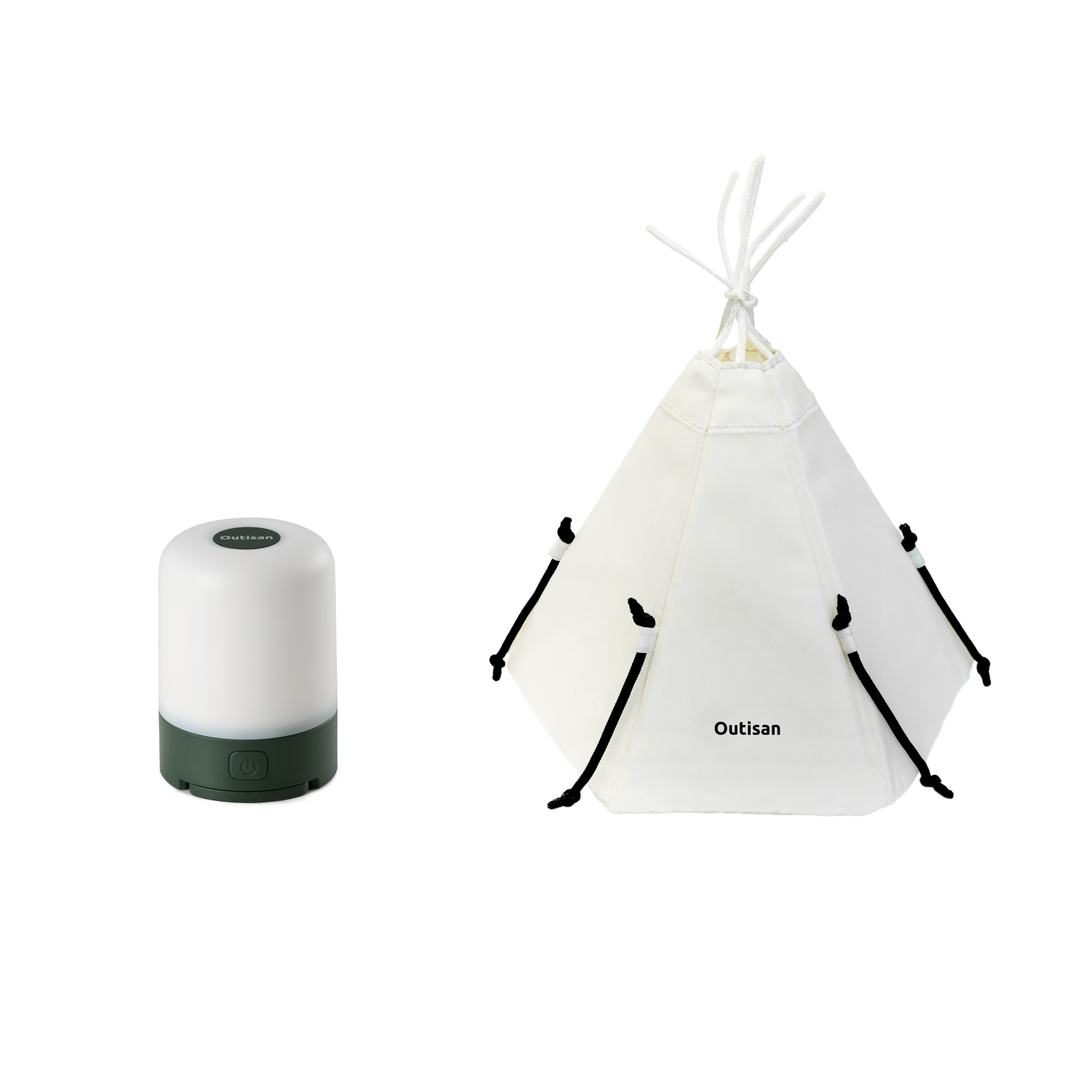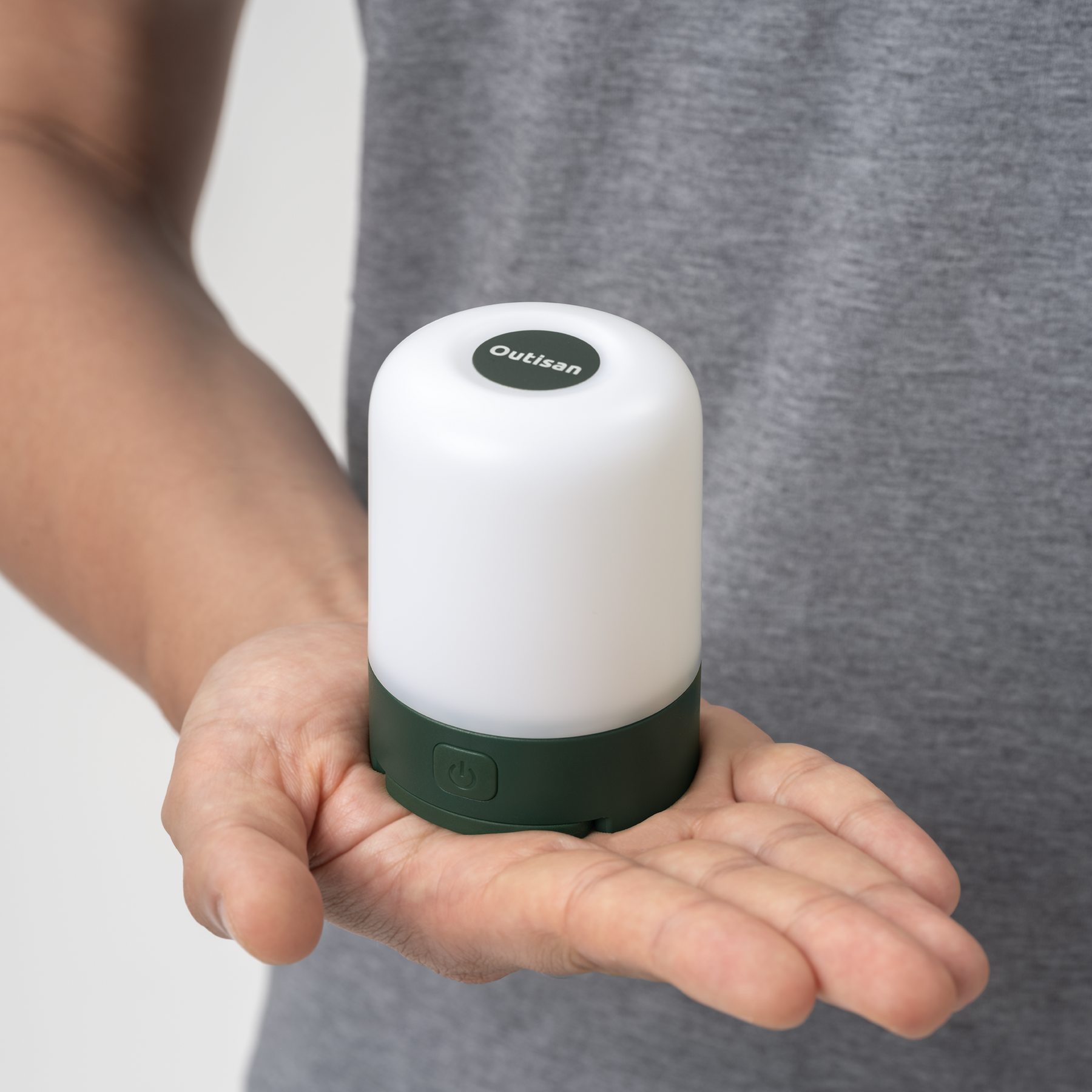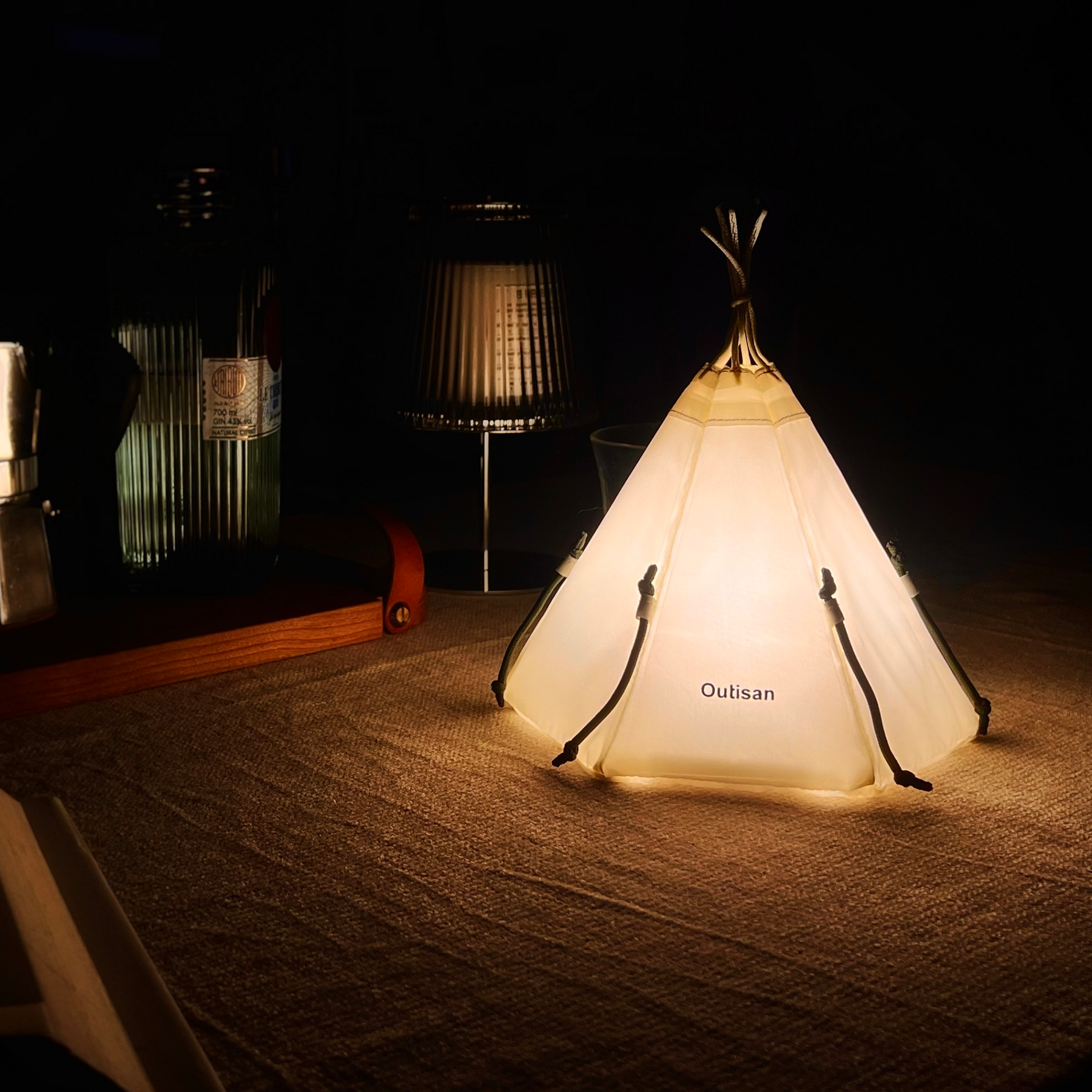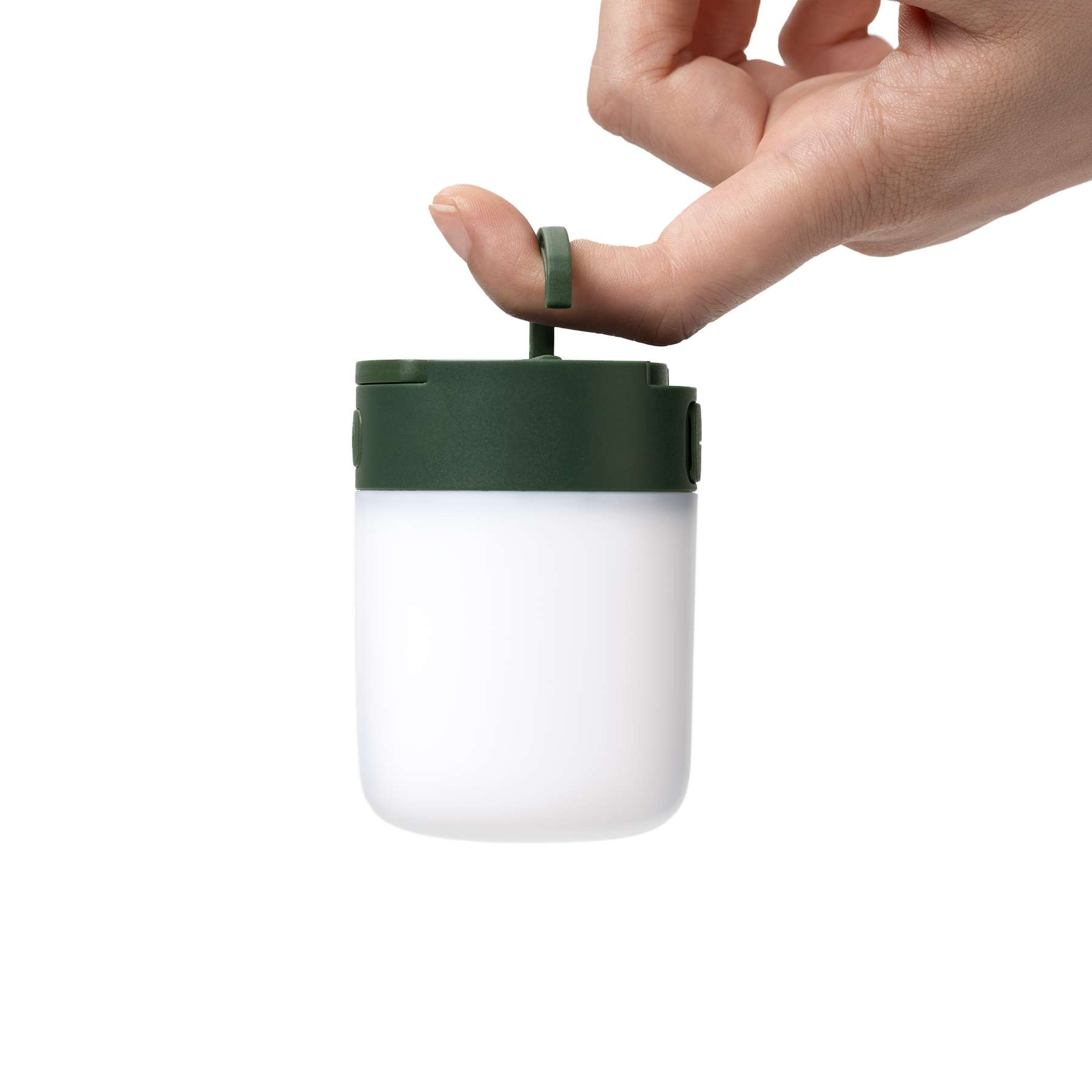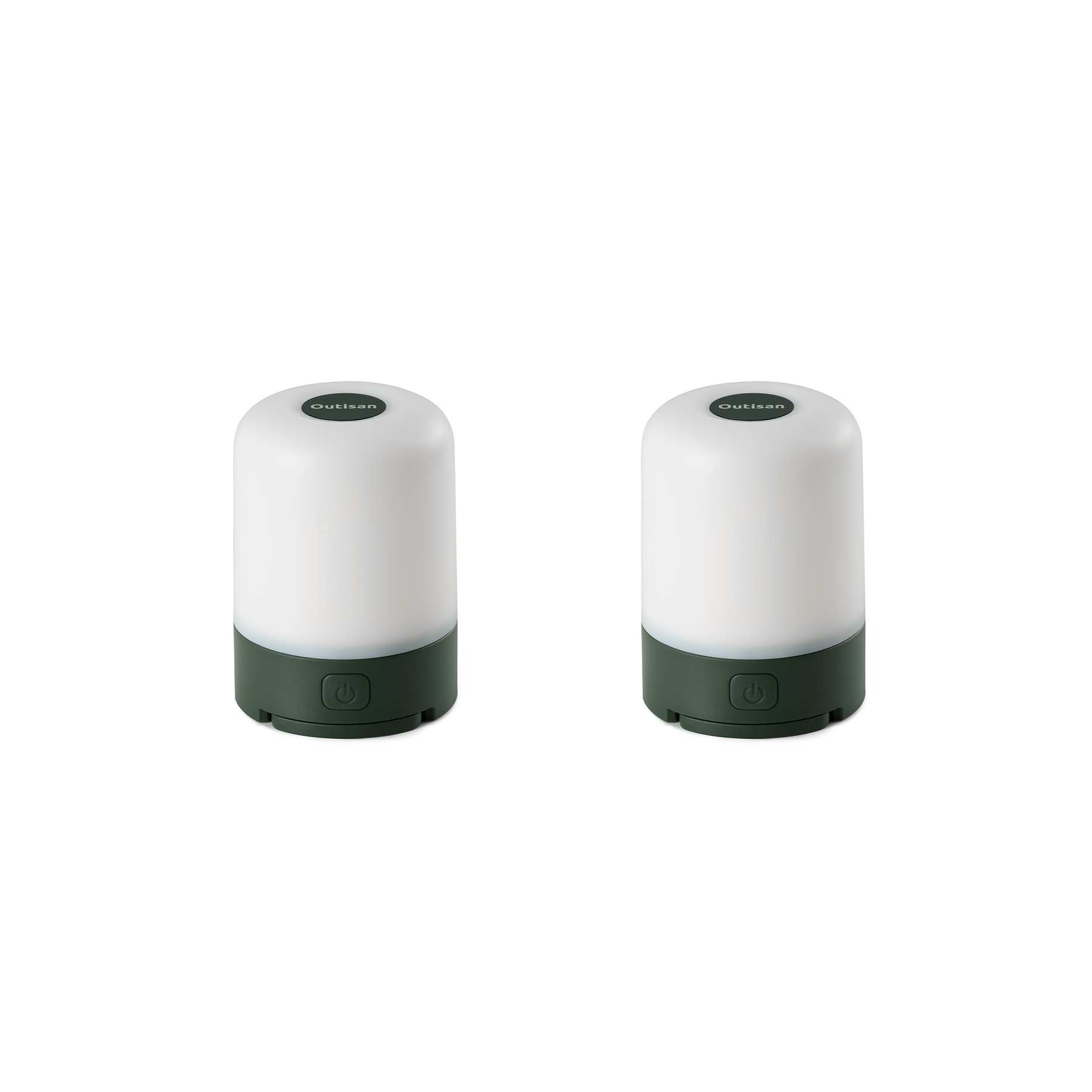 Camping Lantern
Highlights
Whether you're huddled up indoors or making camp for the night, brighten up any moment with the Outisan Camping Lantern, the ultimate pocket-sized light.
Features
Pocket-sized design
7 lighting modes
Up to 155h runtime
Magnetic base, hanging hooks, rubber bumps
Emergency lighting mode
Splash proof (IPX4)
3000k color temperature
Specs
Dimensions: 3.23" (H) x 2.32" (D)
Weight: 6.1oz
Material: ABS Plastic
Brightness: 12-300 lm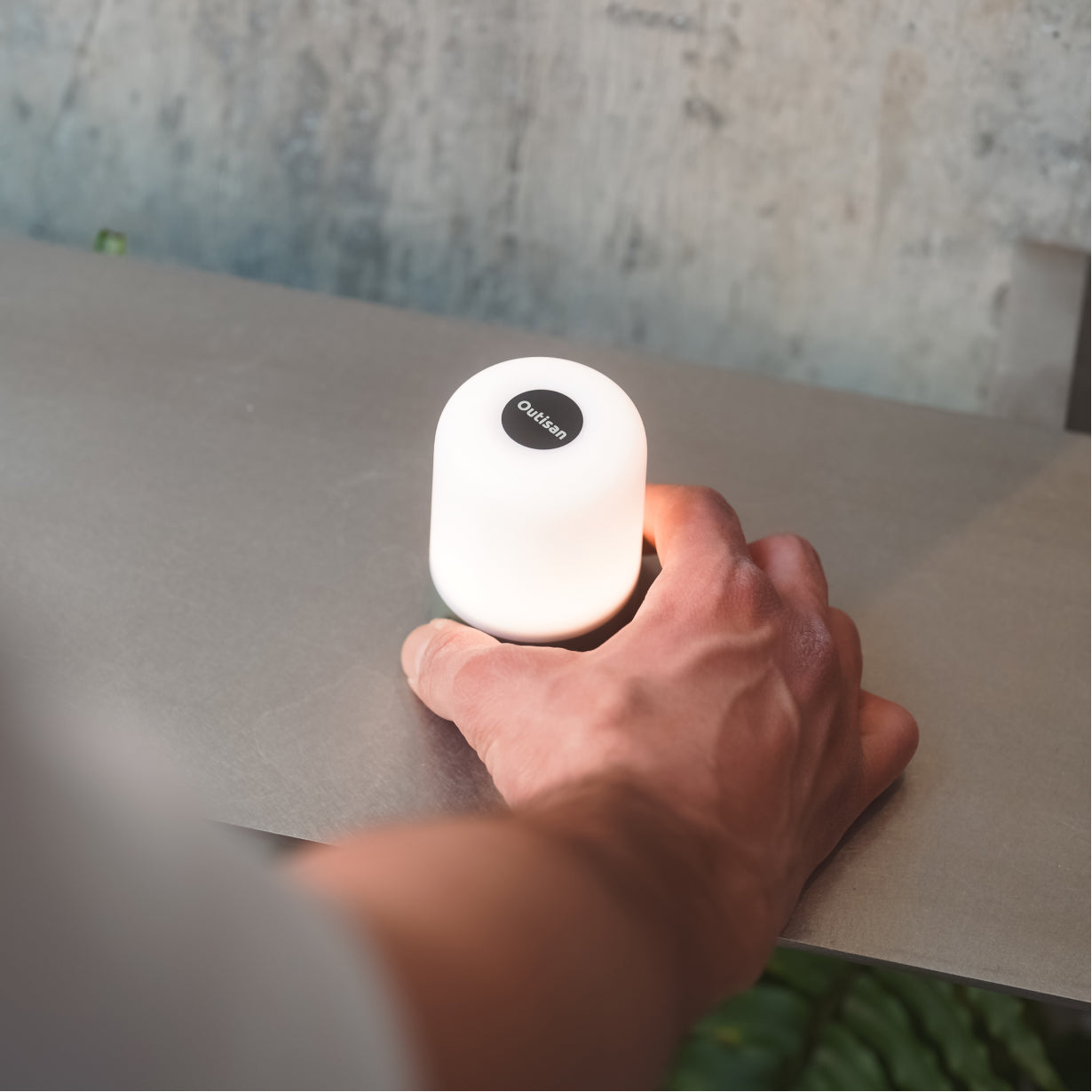 pocket-sized light
Power at hand.
Despite weighing only 6.1 ounces, this lantern packs a powerful punch with its 7 light modes, including the highest mode which emits an impressive 520 lumens and has a beam distance of up to 92 feet!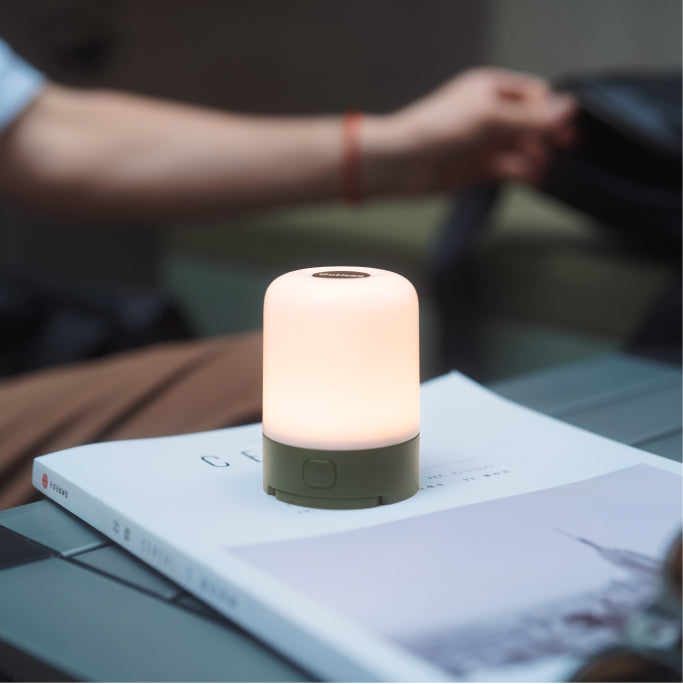 rechargeable battery
Endless power.
Never be left in the dark with the lantern's rechargeable battery, boasting a 5000 mAh capacity that allows for an impressive runtime of 155 hours on a single charge.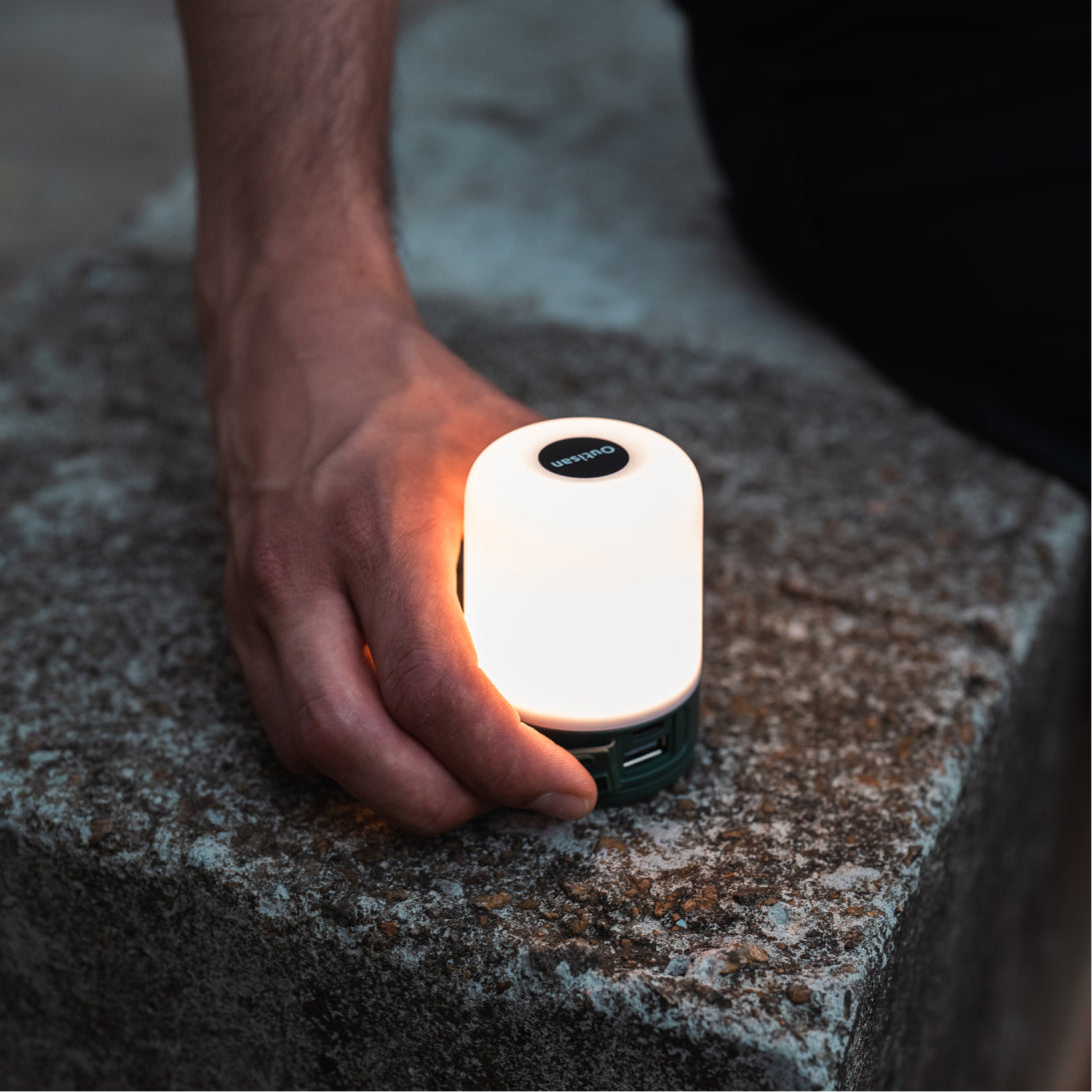 Durable & water resistant
Adventure ready.
With a shock-resistant outer shell that allows it to withstand falls up to 1 meter, plus an IPX4 water-resistant rating, it's protected from the unexpected.
3 different ways
Shine anywhere.
Hang it up, stick it on, or set it down wherever you want, thanks to the dual hooks, magnetic base and rubber bumps.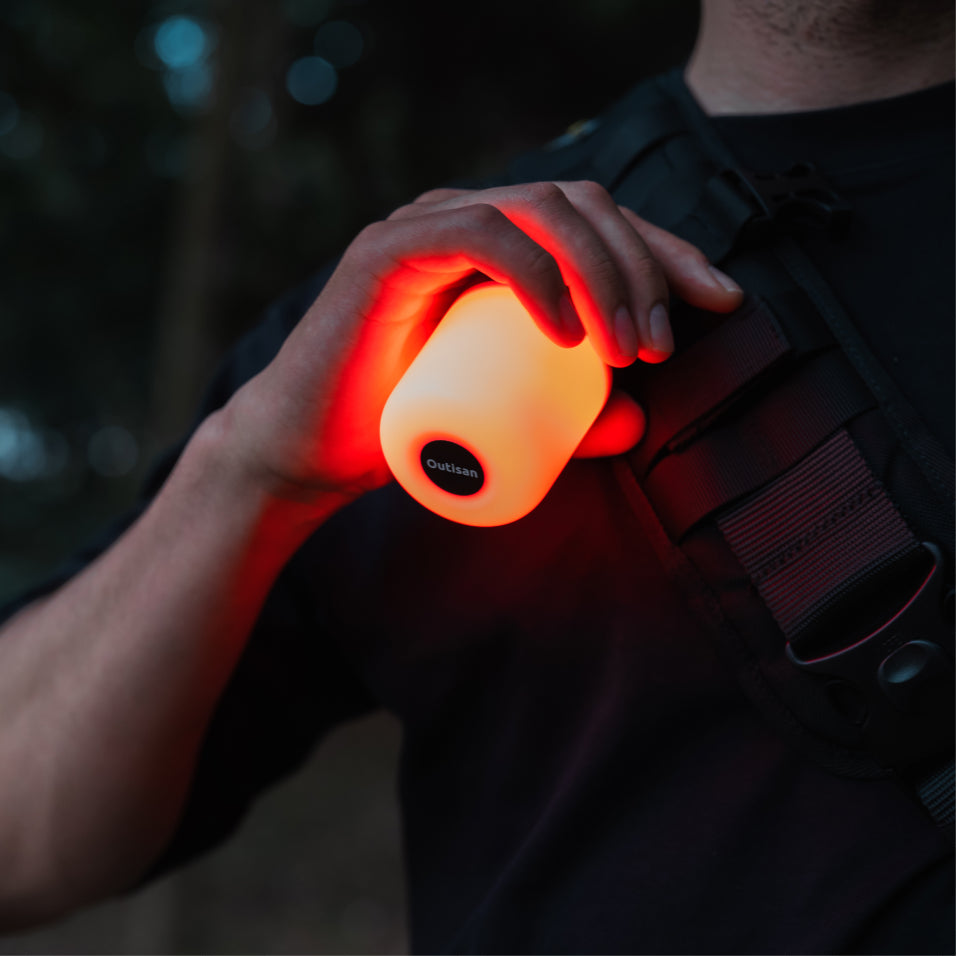 Emergency lighting
Your guiding light.
Be ready for anything with a max brightness level for signaling, solid and blinking red lights in case of emergencies, and even USB type-A reverse charging to keep your phone charged when you need it most.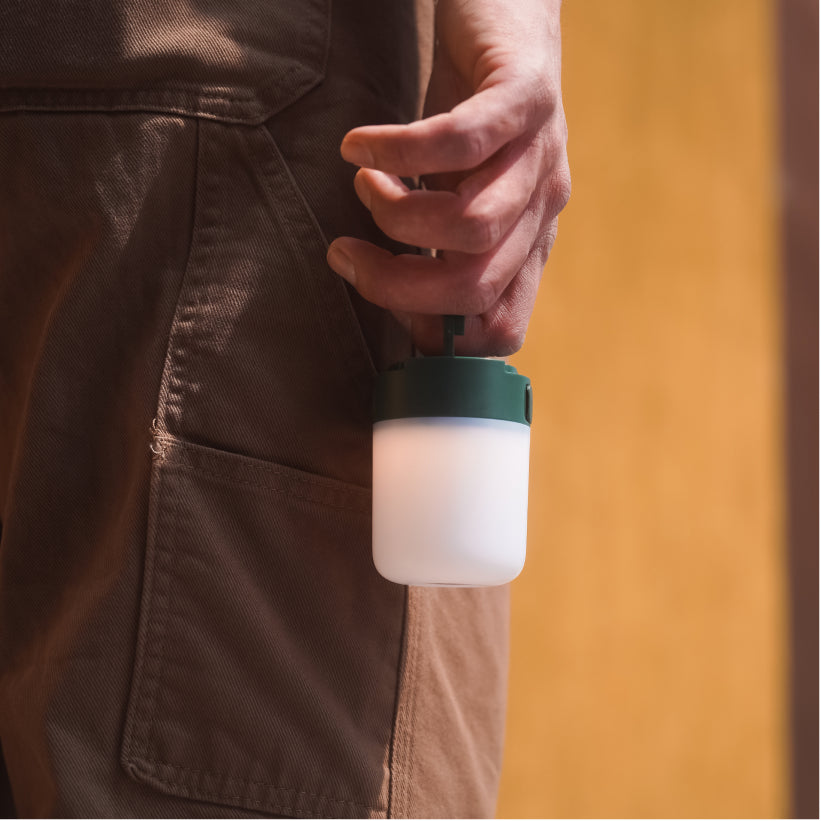 dual hooks
Hang in there.
Clever overlapping dual-hooks not only provide increased stability when hanging, but they also ensure that the light can't fall down.
7 light modes
Switch it up.
Equipped with 7 light modes ranging from 12 to 520 lumens, there's a perfect level of brightness for any situation.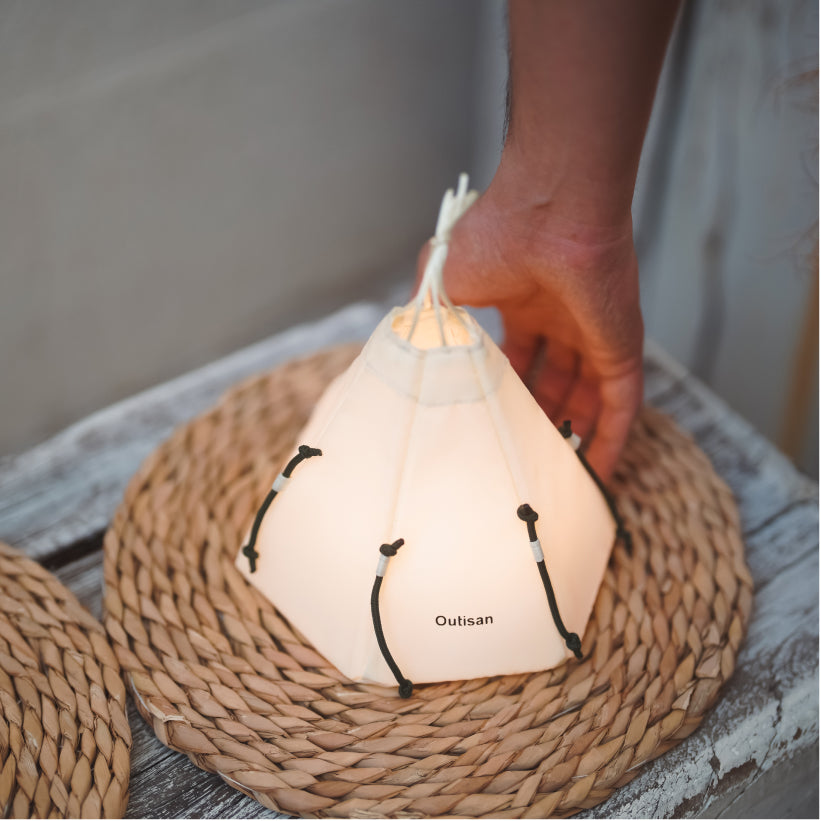 shade accessory
Set the mood.
Add a stylish touch to the lantern or dim the light for that special moment with that special someone.
A fantastic camp (or anywhere) light. Love the design!
This is just a brilliantly designed little light. Very powerful and so versatile; it has 7 modes (5 levels of white light brightness, a red, and a blinking red). You have to long press on the button to start or stop it, so that should prevent the light from turning on accidentally (if you have it stuffed in a pack or a travel bag). The lower light settings are very easy on the eyes and mellow, but still enough light to work, play, or even read by. The higher settings are very very bright, enough for anything you need. As far as battery life, I have not had the opportunity to run it for an extended period of time, but I'll update my review when I do.
What I love most about this light is the design. Everything has been very well thought out. Small and comfortable to hold in the hand. The flat surface lets it sit easily on any level surface, but it has just enough weight to it that you can set it on all sorts of angled or rough surfaces without it falling over. But then the hooks are genius. 2 hooks are recessed into the base, but they are offset with the opening in opposite directions. Open one and you can hang it on a line or a tent pole. Open the other one and now that closes the gap to form a loop that can hang on a hook, the edge of a pole, a little stump of a branch, etc. But then it also has 4 little magnets that are strong enough to stick on most metal objects - a tent pole, pack or chair frame, car, anything magnetic.
This is a great little camp light. Powerful, very handy and easy to use, with a great design that kicks the versatility up another level.
It can get a lot brighter than you might think
This was a pleasant surprise. I wasn't expecting much. I needed a quick-access light near the bed to use instead of bypassing the programmed lamps. But as I started using the different brightness settings, I realized I had just found the perfect hurricane or other power-killing storms we get.
The light is bright enough to light up a large 20x30 room enough to eat or even read by - and that's with one or two brighter settings. And the battery seems to hold a charge longer than average. I still haven't recharged it and it's been over a month, I think.
If I were to have one wish regarding this lamp, it would be the I/0 button. I wish it was on top or at least larger. I realize being on top would cut out much of the purpose of its room-lighting capabilities because of design, but I have to keep it in the exact same position on the nightstand so that if I reach for it in the dark, I'll know where the button is by touch.
Bottom line is it's well worth the $20 or so it was selling for the day I started looking into it and I'm seriously considering at least one more to have downstairs too. NOTE: There is an "Emergency" setting with a solid or flashing red light and a ridiculously-bright white light in that mode (I think I could see through my hand while shielding my eyes) and I can only hope I never need it since I'm not sure how to access it again. Probably double-press the button. I suppose that's a feature if you're using it as intended as a camping lantern. Or maybe people like their rooms awash in red light in the evenings. To each their own. Instead of dwelling on that, maybe focus back on the lamp first. It's a good deal, and I don't say that often about gadgets like this.
Compact light
Compact. Powerful. Multiple color temperatures and intensity levels. USB C charging. Ample battery capacity for a light of this size. Good compact light that would be perfect for backpacking.
Great quality and value!
I have been searching for a small, durable camping light to bring on my trips, and this was just it! The light can be attached to my bag or stowed away in a small compartment, its very convenient not to worry about lugging around a heavy light. The thing that impressed me the most was the battery life, a full weekend trip and I didn't need to worry about charging it once.
Convenient and powerful light!
This light is perfect for camping or even doing a small project around the house where you need additional light. The light itself is mall so it's easy to pack but gives off a ton of light! It's super easy to cycle between the different brightness options and the magnets work really well. The hooks are great for hanging the light in your tent or canopy for some extra light at night. The ability to use it as a charging bank is really convenient as well. Awesome addition to our camping gear!